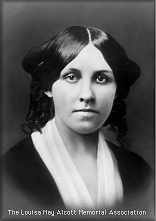 My book came out; and people began to think that
topsy-turvy Louisa would amount to something after all...
-Louisa May Alcott, 1855
We would not have the Little Men show if Louisa May Alcott had not been born, so I wanted to write a little about her. I have read from various sources (mostly online), and hope my brief and humble attempt will be of interest. (For some nice web biographies, try The Orchard House LMA Bio and Louisa May Alcott, as well as the links below.)
Louisa was born in Germantown, Pennsylvania on November 29, 1832. Her father, Amos Bronson Alcott (known more often as Bronson), taught Lousia and her three sisters. Her mother, Abigail May, tried to raise them in practical Christianity, and Henry David Thoreau taught Louisa botany. Louisa's father didn't work too often outside of the home, so the Alcotts lived in poverty for much of their lives. Mr. Alcott founded several schools, but they all failed, and so Mrs. Alcott and her daughters began to work for the household income. Louisa taught school, sewed, and for a short time worked as a domestic servant.
Louisa's father viewed her as a challenge, sometimes going so far as to call her the "Possessed One," "pathetic," and "bound in chains . . . which she could not break" (qtd. in Sanderson 43). Louisa's expressiveness, strong will, and temper were probably what led her father to think thus.
Louisa's passion for writing began at an early age. Her imagination ran wild and she and her sisters often acted out stories for friends. Lousia liked to play the shocking parts such as "the villains, ghosts, bandits, and disdainful queens."
She began writing in earnest at age sixteen, determined to earn money for her family. Her first publication was a poem and offered her little money. After that, she published some "sensational serial stories", which brought in more money and were popular. Her first book published was Flower Fables (1854).
In 1862, Louisa went to Washington D.C. to work as a nurse for soldiers wounded from the Civil War. However, she contracted typhoid soon after and nearly died from the illness. She wrote a book based on her nursing experiences, which was called Hospital Sketches.
When Louisa was 35, her publisher, Thomas Niles, asked her to write "a book for girls." She responded by writing Little Women, a story based partially on her own life. The novel was instantly a success, and the fans wanted more. First, Louisa wrote Good Wives (volume two of Little Women), then, the sequel, Little Men, was born. There were three more sequels, Life at Plumfield with Jo's Boys (1871), Aunt Jo's Scrap Bag (1872-82), and Jo's Boys and How They Turned Out (1886).
Among Louisa's other books are Work: A Story of Experience, Eight Cousins, Rose in Bloom, and An Old-Fashioned Girl.
Louisa May Alcott died at the age of 55 on March 6, 1888, only two days after her father. Louisa is buried in Sleepy Hollow Cemetery in Concord. . . . In all, Louisa had over 30 books and collections of stories published.
I have enjoyed reading Little Women, and hope to read the sequels sometime.
A faithful friend is a strong defense;
And he that hath found him hath found a treasure.
- Louisa May Alcott
"Stay" is a charming word in a friend's vocabulary.
-Louisa May Alcott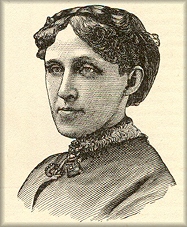 The pictures are from AlcottWeb,
although the first one is courtesy of Orchard House
and The Louisa May Alcott Memorial Association.

Links:
AlcottWeb - Includes photos, illustrations, and info.
Orchard House - Home of Alcotts - About Louisa, her family, and the houses she lived in.
About Louisa May Alcott - This is a site including online copies of her books and poems and a forum.
Louisa May Alcott - Includes a bio by Nancy Schafer and a list of LMA's writings.
I Hear America Singing - A site with a bio about L. M. Alcott.
LMA entry from the Encyclopedia Britannica - Biography of LMA.
Louisa May Alcott Biography, by Kim Wells - A bio revealing more about Louisa's father.
Louisa May Alcott and the Roles of a Lifetime, by Kim Wells - Studies about Louisa and some of her works.
Biography of Louisa May Alcott
The Electric Library's biographical entry on LMA
Biography of LMA from UVA - A good bio by Deborah Durbin.
LMA entry from the concise Encarta Online
A Tribute to the Literary Figures of Sleepy Hollow Cemetery: This site includes short bios of L. M. Alcott, Emerson, Thoreau, and Hawthorne.
The characters from Little Women - Comparing the characters to actual people in Louisa's life.